PI Series Heating Cables Non-Hazardous Areas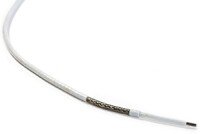 XPI-NH is a polymer insulated (PI) series heating cable, for use in non-hazardous areas. It has been designed for use in freeze protection and temperature maintenance applications of pipes, tanks and other equipment. XPI-NH offers an economical solution for a wide variety of heat- tracing applications in non-hazardous areas, in particular for pipe lengths beyond the maximum circuit lengths of parallel heating cables.
The selection of PTFE for the inner and outer insulation makes XPI-NH a safe and reliable product. It provides highest chemical withstand and good mechanical strength, in particular at elevated temperatures.
XPI-NH heating cables can be used for temperatures up to 260°C. The heating cable is easy to install and has printed meter-marks. Pentair Thermal Management offers XPI-NH heating cables in a very wide range of resistances, starting from 0.8 Ω/km up to 8000 Ω/km as well as a complete range of components for connection and splicing of the cables.