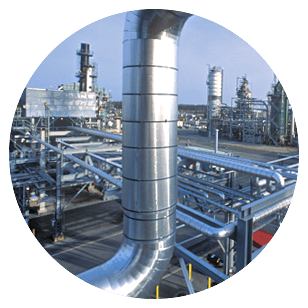 Frost protection for use in hazardous areas, process maintenance (gas, oil, chemicals, etc) and tank and vessel temperature maintenance.
Cables
Connectors / End Seals
Controls
Fixing / Ancillaries
Junction Boxes
Maintain non return Hot water temperature, frost protection to unheated commercial areas and snow melting for ramps, loading bays and access routes.
Fire Escape Snow Melting
Frost Protection
Gutter Snow Melting
Hot Water Maintenance
Ramp Snow Melting
Prevent water pipes and taps from freezing, frost protection for gutters, downpipes, valley gutters and snow melting for driveway and access routes.
Driveway Snow Melting
Frost Protection
Gutter Snow Melting
Hot Water Maintenance
Specialist Trace Heating applications
Complete Industrial, Commercial & Domestic Trace Heating Solutions
Trace Heating UK are trace heating specialists. Whatever your requirement, we have a trace heating solution. From a manufacturing process to frost protection for your garden tap we can provide a trace heating solution, self-regulating cable, thermostats, specialised joints and fixings. As standard we offer free next day delivery to most of England, Scotland & Wales and a free design and build specification service. Call now on 01473 276672.
---
Raychem trace heating, frost protection & hot water maintenance
Raychem Trace Heating UK are approved Raychem trace heating product distributors. Raychem applications include frost protection, temperature maintenance and hot water maintenance across industrial, commercial and domestic applications.
All our trace heating products are available to order online through this website, it's quick, easy and secure - with FREE next working day delivery.
Whether you are looking to source a vital trace heating system for a nuclear power plant or frost protect the pipes in your garage, we have the answer. We supply only the highest quality materials, and with 20 years' experience in the trace heating industry, no matter the size of your project, we can help you from start to finish.
Call one of our experienced trace heating advisors on 01473 276672 to discuss your industrial, commercial or domestic trace heating application.






Latest Tweets from Trace Heating UK
Trace Heating UK @Trace_Heating
Mar 9
Pathway and driveway heating proved to be the perfect solution last week to keep our customers moving. Trace Heatin… https://t.co/2ixcWDgBTq
Trace Heating UK @Trace_Heating
Mar 2
Prevent pipes freezing today with our pre-made frost protection trace heating kits with thermostat and required acc… https://t.co/FTZYLyixGx
Trace Heating UK @Trace_Heating
Dec 21
https://t.co/9xns4ylZx8